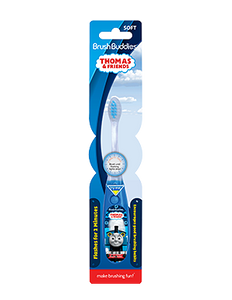 Brush Buddies Thomas & Friends Flash Toothbrush Features:
Two Minute Flash Timer - when the button is pressed the toothbrush flashes for the dentist recommended two minutes promoting dental hygiene for kids.
Stand-up brush can stand on its own two feet! The integrated stand-up base helps the bristles to drain after each use for better hygiene.
Soft Bristles - The Flash brush has soft bristles and an ergonomic handle.
Try Me Button - When the button is pressed, the lights will flash for 2 minutes, which is ADA and Dentists recommended time to brush your teeth.
Batteries are included and are not replaceable